Now that we have tons of time on our hands, here are some of the best, most escapist, most binge worthy things I have watched during the Pandemic:
Ozark – Hell yes! This show is flipping fantastic and completely riveting. Jason Bateman and Laura Linney are excellent as a couple desperately trying to make the best of a horrific, constantly escalating situation. Linney is an absolute powerhouse. Julia Garner as Ruth, a pickpocket who quickly becomes embroiled in the couple's schemes is magnetic. Somehow this pitch black show also manages to be very funny and there is no shortage of shocks and surprises. I loved it. It even made me consider visiting The Ozarks, which, I went to on a family vacation and was widely considered our worst holiday. Ahem: MOSQUITOES AND SCORCHING TEMPS I'm looking at you. 
Synopsis: Financial advisor Marty Byrd drags his family from Chicago to the Missouri Ozarks, where he must launder money to appease a drug cartel.
Dead To Me: This dark comedy is a great story of female friendship and female rage. It's original, it's surprising, it's funny, and I loved the twists and turns. The Newport Beach location is such escapist fun right now. Also, I was obsessed with Judy's amazing outfits. Seriously. I hunted one of her boho dresses down and bought it on Amazon. Linda Cardellini is a great actress, she's so natural. Season two ends pretty explosively, I just finished the finale and am ready for the third.
Synopsis: Grief stricken and rage filled widow Jen meets nurturing free spirit Judy during a grief support group and they strike up a deep friendship, however Judy has some shocking secrets of her own.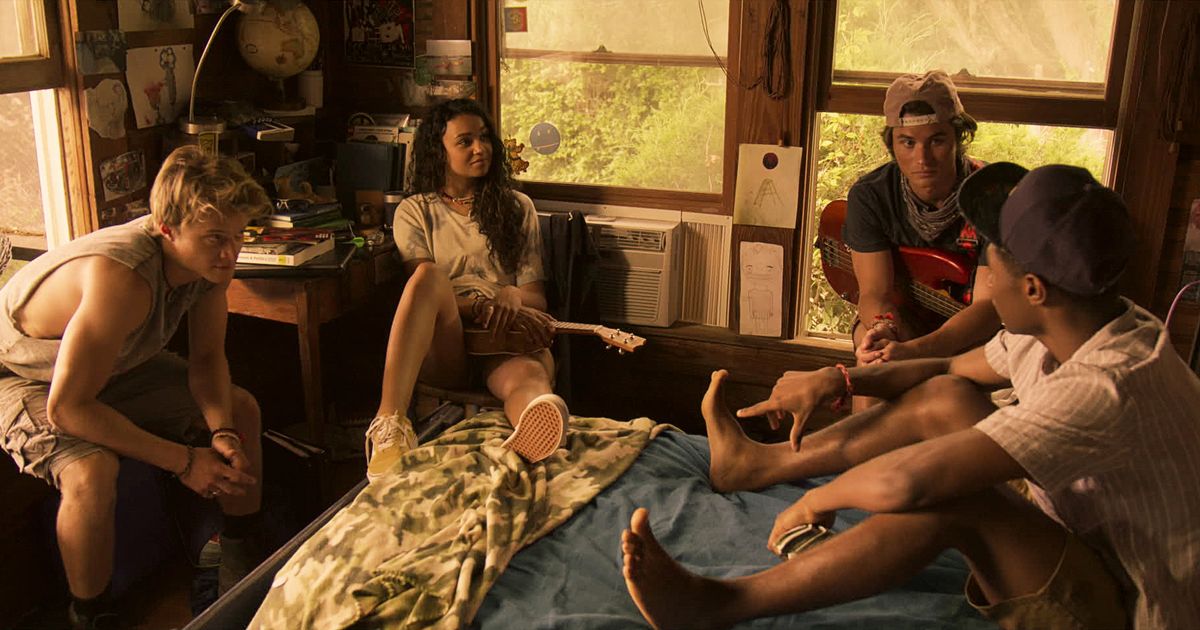 Outer Banks: This teen adventure mystery is ridiculous, but it has beautiful locales, a search for buried treasure, excellent surfer chic outfits and it sure made me want to visit North Carolina. I actually had to look up The Outer Banks — they are a 200 mile long string of islands off the coast of North Carolina and I am for them.
Synopsis: A group of goofy teens from the wrong side of the tracks stumble upon a treasure map that unearths a long buried secret. Adventure, chaos and budding romance ensues.
Schitt's Creek and The Good Place –  I watched these comedies before the lock down, but absolutely loved them, so I am including on the list because they are such great, escapist entertainment. They are feel good, quirky, boast tons of irreverent humor with heart, and characters you will love 😀 Plus, you will constantly be quoting these characters in your everyday life.
Synopsis: When the fabulously wealthy Rose family suddenly loses all of their money, they are forced to leave their pampered lives to regroup and rebuild their empire from  Schitt's Creek, a dinky town they once bought as a joke.
Synopsis: When Eleanor Shellstrop finds herself in the afterlife, she's both relieved and surprised that she's made it into The Good Place, particularly since she realizes that there has been a massive mistake.
Next Up on the Entertainment Blog:
More great shows to binge watch during the lock down – Amazon and HBO.